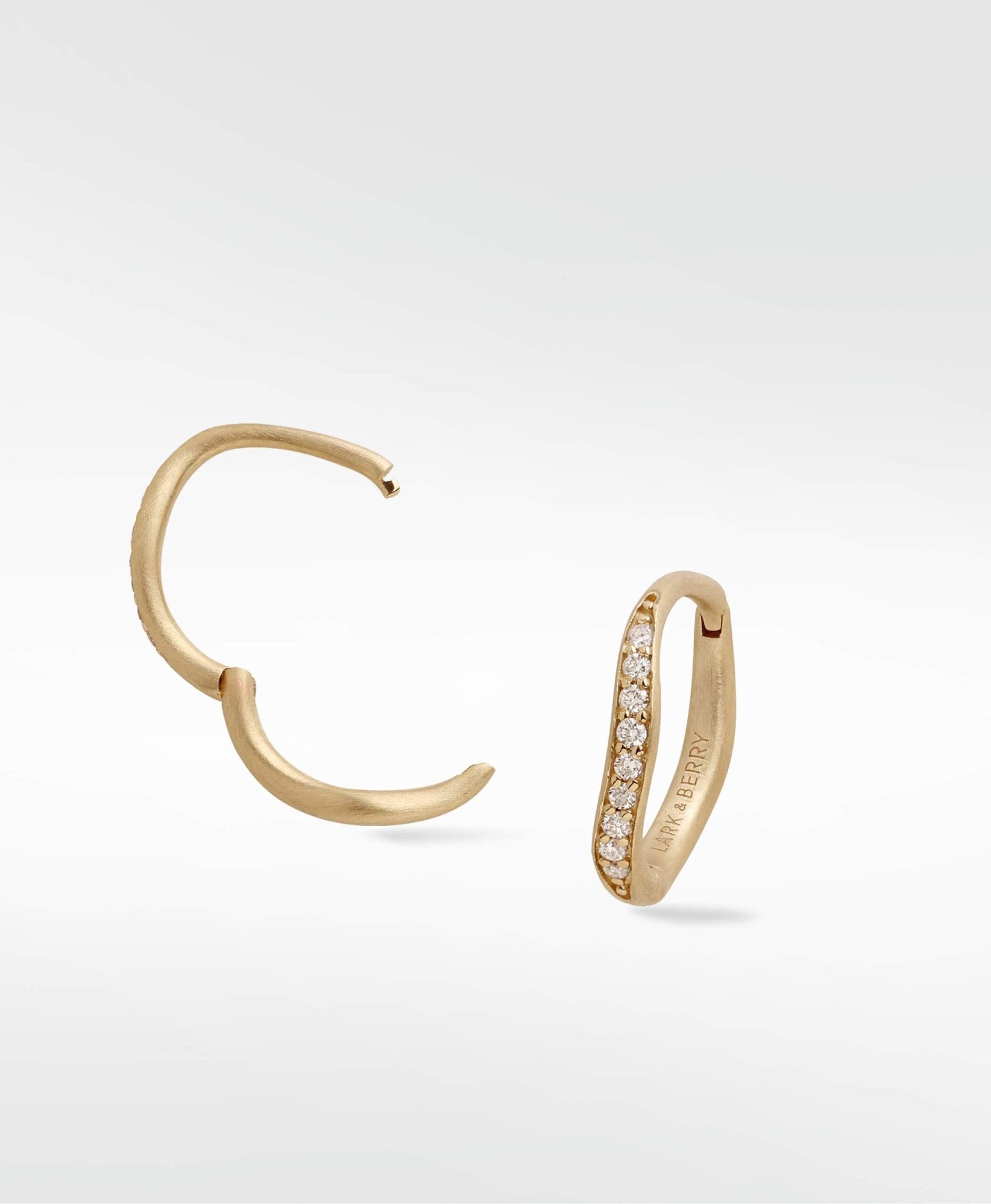 Dune Diamond Large Brushed Hoop
14K Gold, Cultured Diamonds
---
Make sure you are logged into your membership to get your points. Not a member? Sign Up Now.
Want someone to gift you this? Drop a Hint!
---
DETAILS

DESCRIPTION

Dune Collection

BESPOKE
• Diamond - 0.04ct
• D-G, VS Diamonds
• 14K Gold
• Hoop Size: 10mm
Organically wrapping itself around your ear with a sprinkling of perfectly glistening cultured diamonds set into the brushed gold, this Dune Organic Hoop is a great piece for any ear. Perfect for healed piercings on the helix and upper lobe.
Dune immerses you in timeless harmony, capturing the equilibrium of desert dunes and the splendid hues of the sky. Each piece is a masterpiece adorned with blue, orange, and purple hues.
To get pierced with this item, please book an appointment at our London shop, where the piercing is complimentary with purchase. If you're located outside of London, we'll send the item in a sterilised pouch for use with your local needle piercer. After your piercing heals, if necessary, we offer free bar shortening services when you visit our shop. To ensure our jeweller is available, please book an appointment in advance.
Swipe right for more piercing information.
We use a needle for piercing, not a gun. This method is more sterile, less damaging, and allows you to leave with your brand new piece on.
What to Expect During Your Appointment?
When you visit our store for a fine piercing, the process typically involves the following steps:
You'll come into our store and select the piece(s) you'd like to get pierced with. We can usually accommodate up to 4 piercings per session, depending on the area of the ear(s).
Next, you will be asked to fill out a consent form.
Our professional piercer will prepare you for the piercing procedure, followed by the actual piercing of your ear(s).
After the piercing, we provide you with a comprehensive aftercare package and instructions on how to properly care for your brand new piercing(s).
This ensures that you have a comfortable and safe experience when getting your fine piercing done at our store.
Do I need to buy my piercing item online first?
You may purchase your item and let us know you'll be coming in for a piercing so we don't ship it. Alternatively, you can inform us of the items you're interested in, and we can reserve them for you when you come and visit us. You can contact us via email, WhatsApp, or phone, or simply make a note when you're booking your appointment.
Can I get pierced elsewhere if I'm not in London?
Absolutely, please make sure to find a piercer who uses needles. Inform them that we utilise a push-back mechanism instead of screw-on backs for our piercings. We will ship your item in a fully sterilised pouch, allowing you to take it directly to them.
---
A Cultured Diamond is a Real Diamond
We only use cultured diamonds and stones. This means our stones are never mined and always ethical.
Swipe right for more information.
Grading and Certification
Cultured diamonds, also known as lab diamonds, are certified and/or graded by the exact same institutions such as the IGI and GIA that certify and grade mined diamonds.
Swipe right for more.
A lab diamond is a real diamond. It boasts the same brilliance, hardness, and timeless quality as its mined counterparts. Expert gemmologists cannot tell them apart. The only difference is their origin.
Swipe right for more.
When growing a diamond, you don't have to dig up huge holes, displace animal habitats or put human lives at risk.
Swipe right for more.
Labs can now grow diamonds with 100% renewable energy. Some labs can even grow diamonds from excess carbon in the air!
---
Cultured: $221.00 | Mined: $309.40 (40.0% more)
With kinder lab diamond pricing, we aim to pass all the benefits to you. We use only the top quality lab stones for our pieces crafted in 14K Gold. The same quality hoop using mined diamonds would normally be 1.4x more.
The absence of mining-related markups allows our designer jewelry to provide you with timeless beauty at a kinder price.
---
Dune Diamond Large Brushed Hoop
Lifetime Cleaning and Warranty

Lifetime cleaning

We offer complimentary cleaning on all our products when you bring them to one of our locations, showrooms or offices worldwide!

We want to make sure your piece sparkles forever on you.

Warranty

For full details please visit our Warranty T&Cs.
Taxes, Deliveries and Returns

Taxes

All import duties and taxes are included for shipments in the UK, Canada, Europe, USA and Mexico.

Returns and Refunds

All online orders have a 30 day returns policy from the day of delivery. Items must be returned unworn in their original packaging with all tags. Any gifts with purchase must also be returned in the same condition as received.

For more information view all T&Cs.
Comparing Lab vs Mined

Price

Our comparison prices are derived from a careful analysis of how we source and acquire our diamonds compared to the typical sourcing and pricing of mined diamonds. We keep the metal prices stable among all comparisons, only the stones are taken into the comparison calculation. While prices may fluctuate over time, we continuously monitor these trends to give you the most accurate data we can find.

Value

Guaranteeing an ethical diamond is priceless, however in terms of monetary value, traditional mined diamond jewelry retains a resale value of just 20-60% of its original price - that's if you find a buyer.

Our focus is on you wearing and enjoying your piece, so opting for lab diamond jewelry allows you to allocate your savings elsewhere while still keeping your cherished piece forever.
LAB VS MINED
Drag the slider to find the differences between the mined and lab diamond. (Hint: there's only one!)
CARAT
Carat refers to the weight of a diamond, with one carat equaling 200 milligrams. It measures the size and scale of the diamond.
CUT
The cut of a diamond determines its sparkle and brilliance. A well-cut diamond reflects light beautifully, enhancing its overall beauty.
COLOUR
Diamond color refers to its lack of color, with the highest grade being D (colorless) and descending through the alphabet. Less color means more brilliance.
CLARITY
Clarity assesses the presence of imperfections or blemishes within the diamond. Higher clarity grades signify fewer flaws, resulting in a clearer and more valuable diamond.
VISIT US
London

52a George St.

W1U 7EA

London, UK
Hong Kong

Our showroom is located in central. Please contact us to make an appointment.
USA