Budgeting for an Engagement Ring
When shopping for an engagement ring, it's essential to start with a realistic budget in mind. Your budget sets the foundation for your entire selection process, and it's crucial to consider various factors that can affect the cost of an engagement ring. While some believe an engagement ring should align with 1-3 months' salary, it's crucial to remember that every couple is unique. Craft a budget that aligns best with you and your partner. To get the most value within your chosen budget, here are some practical tips:
Consider the 4 C's: Before setting your budget, learn about the Cut, Color, Clarity, and Carat (Weight) of the diamond, as these factors significantly influence the price. Make sure you understand how diamonds are graded to make an informed choice.
Balance Quality and Price: Strive to strike a balance between quality and price. You don't need to break the bank for a beautiful engagement ring that symbolizes your love.
Personalization Options: When selecting your perfect engagement ring, you'll also want to decide whether you want an off-the-shelf ring or something bespoke, created specifically with your love story in mind. An off-the-shelf ring provides convenience and a wide range of styles to choose from, while a bespoke ring allows you to design a unique piece that encapsulates your love story. Consider adding engravings to your engagement ring to make it even more special. Engravings can include special dates, meaningful words, or even motifs that hold significance in your relationship. These personal touches can add an extra layer of sentiment to your perfect engagement ring, making it a cherished piece of jewelry that beautifully symbolizes your love.
Understand the 4 C's of Diamonds
CUT
The cut of a diamond refers to the shape and facets, and it greatly affects a diamond's brilliance and sparkle. There are various diamond cuts, including round, princess, and emerald, each offering unique visual characteristics. When buying a diamond, knowing the different cuts and their impact on the overall look is crucial.

CLARITY
Clarity is all about the presence of internal and external flaws, known as inclusions and blemishes. A diamond with fewer imperfections is more valuable and tends to sparkle brilliantly. Understanding clarity and how it's graded is vital when selecting the perfect diamond.
CARAT
Carat is a measurement of a diamond's weight, which directly impacts its size and, consequently, its value. Larger carat weight often leads to a more substantial price tag. Knowing the significance of carat weight in relation to size and value is essential when buying a diamond.
COLOR
Diamonds are graded on a color scale from D (colorless) to Z (light yellow or brown). The color of a diamond can significantly influence its overall appearance and value. Learning about the color scale and its impact on your perfect engagement ring is key.
1. Choose a Diamond Shape
The diamond shape you select is a personal choice that reflects your partner's unique style. There is a variety of popular diamond shapes to choose from, including:
Brilliant Round
Classic and timeless, the round diamond shape offers exceptional brilliance. Selecting the right diamond shape is essential for creating the perfect engagement ring that matches your partner's style.
Princess
Square in shape, this cut provides a modern and elegant look that can complement a variety of ring settings and metals.
Emerald
Known for its rectangular shape and step-cut facets, the emerald cut exudes sophistication and is a unique choice for a center stone.
Oval
Oval-cut diamonds are a chic and timeless choice for engagement rings. Their elongated shape provides an elegant, flattering appearance, while their brilliant facets offer timeless sparkle and sophistication.
Pear
Pear-shaped diamonds, also known as teardrop diamonds, offer a unique and elegant option for engagement rings. Their combination of a rounded and pointed end creates a distinctive and graceful appearance.
Marquise
Marquise-cut diamonds, with their elongated, boat-like shape and pointed ends, add a touch of elegance and sophistication to engagement rings. They create the illusion of longer, more slender fingers.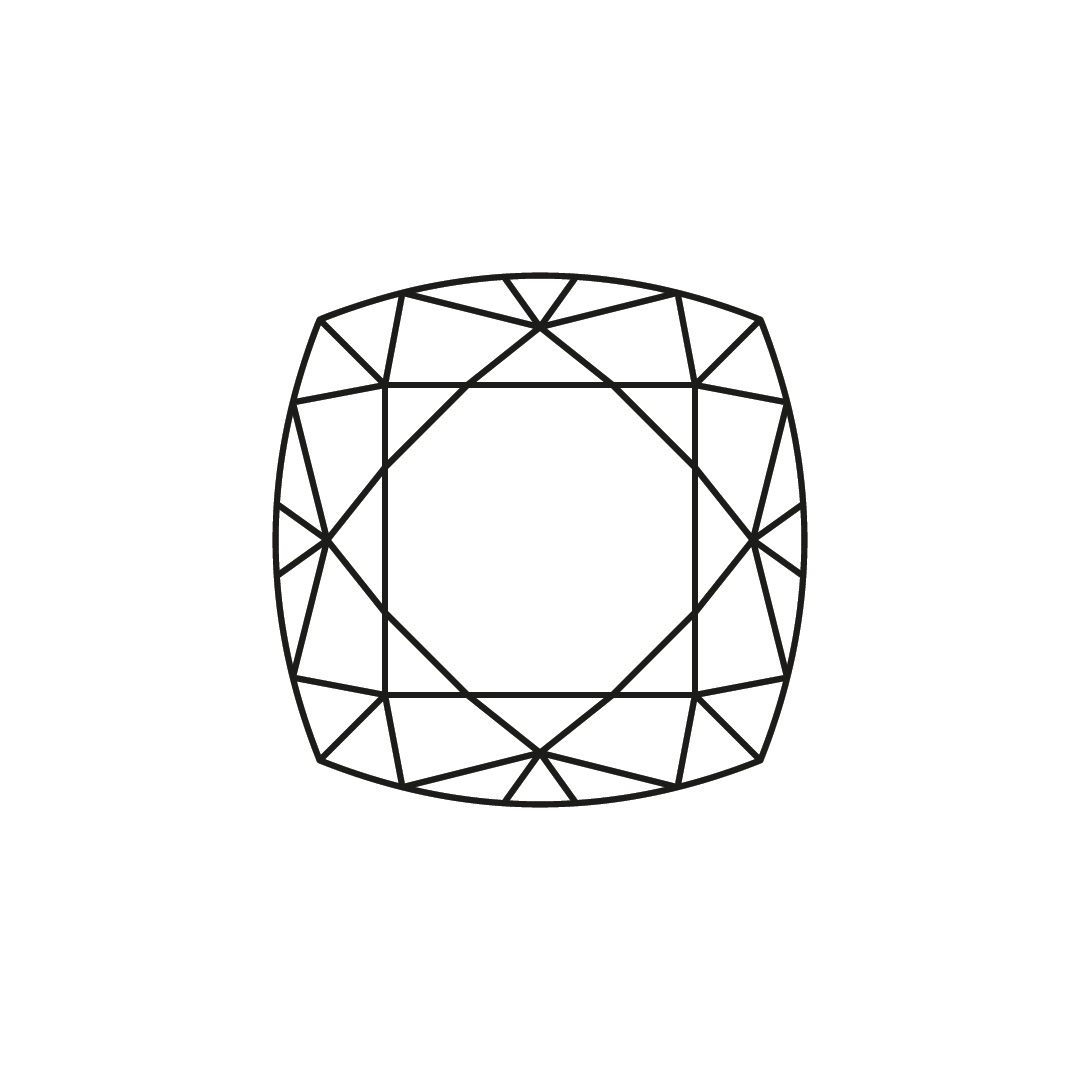 Cushion
Cushion-cut diamonds are prized for their romantic, pillow-like shape. With rounded corners and a brilliant sparkle, they offer a timeless, vintage-inspired choice for exquisite and elegant engagement rings.
Radiant
Radiant-cut diamonds offer a stunning blend of the classic elegance of emerald cuts and the brilliance of round diamonds, making them a popular choice for dazzling and unique engagement rings.
Squared Radiant
The squared radiant diamond shape combines the timeless appeal of radiant cuts with squared corners, offering a brilliant and distinctive choice for engagement rings that exude both elegance and modernity.
Asscher
The Asscher-cut diamond, with its iconic square shape and step-cut facets, brings a vintage touch to modern engagement rings. Its clean lines and exceptional clarity exude timeless sophistication.
Elongated Cushion
Elongated cushion-cut diamonds bring a modern twist to the classic cushion shape, with a more rectangular appearance. Their timeless charm and elongated facets make for captivating and elegant engagement rings.
Heart
Heart-shaped diamonds are a symbol of love and romance. With their distinctive heart outline, they make a sentimental and striking choice for expressing one's love in an engagement ring.
2. Choose the Ring Metal
The choice of metal for the engagement ring band is a significant decision that can complement the diamond and your partner's style. Consider options like:
Gold
Gold metal in engagement rings complements various styles and enhances the diamond's brilliance. It's not only highly scratch-resistant but also lightweight, ensuring comfort for everyday wear. You'll find a range of gold options to choose from, with the most popular ones being:
White Gold
Offers a classic and versatile look, suiting various diamond shapes and settings. White gold is a popular choice for engagement rings and can be the perfect complement to your selected diamond.
Yellow Gold
A traditional choice that exudes warmth and elegance, making it a timeless piece of jewelry that symbolizes your love.
Rose Gold
Provides a romantic and distinctive appearance, trending in recent years and adding a unique touch to your engagement ring.
Platinum
Platinum is a popular choice for engagement rings due to its durability, rarity, and hypoallergenic properties. Its natural white sheen complements diamonds and offers a contemporary look for the perfect engagement ring that represents your love.
3. Choose the Ring Setting
The engagement ring setting greatly influences the overall look of the engagement ring. It's essential to understand the different types of settings available, such as prong, bezel, pave, and more. Some settings offered by Lark & Berry include:
Prong Setting
A classic choice, prongs hold the diamond securely while allowing maximum light exposure. This setting style accentuates the brilliance of your selected diamond and is a key component of your perfect engagement ring.
Bezel Setting
The diamond is surrounded by a metal collar for added protection and a modern look. Bezel settings offer a sleek and secure way to showcase your chosen center stone, contributing to your perfect engagement ring.
Halo Setting
A halo of smaller diamonds surrounds the center stone, creating a dazzling and luxurious effect. Halo settings are a glamorous choice that can make your engagement ring truly stunning.
Trilogy Setting
The trilogy setting, also known as the three-stone setting, symbolizes the past, present, and future of a couple's love story. It features three gemstones, often diamonds, set side by side, creating a timeless and meaningful design for engagement rings.
Organic Setting
The organic setting embraces nature's beauty, with free-flowing, irregular designs that mimic natural elements like leaves or vines. It offers a unique and artistic touch to engagement rings, evoking a sense of organic elegance.
Split Shank Setting
The split shank setting divides the ring band into two or more strands as it approaches the center stone, adding a touch of elegance and drama to the engagement ring's design.
4. Find Your Partner's Ring Size
To ensure the engagement ring fits perfectly, it's crucial to discreetly determine your partner's ring size. To discreetly determine your partner's ring size, there are a few effective techniques you can employ. One option is to borrow a well-fitting ring from their jewelry collection and use it for measurement, or simply mark where it sits on your own finger for reference. Another approach is to enlist the help of their close family members or friends, who can subtly enquire about their ring size without giving away the surprise. Additionally, you can work the topic into a conversation in a natural and nonchalant manner, ensuring it doesn't raise any suspicion.
Lark & Berry offers sizing options and services to assist in achieving the perfect fit for your perfect engagement ring as well as a ring sizing guide to help you find the perfect fit.
5. Buy Your Perfect Engagement Ring
When purchasing an engagement ring, consider financing options, ring insurance, and other important aspects. Lark & Berry's transparent pricing policy ensures customers receive clear and competitive pricing without hidden costs. This ensures that you can confidently buy an engagement ring that represents your love. In collaboration with Klarna, we provide a convenient payment plan that allows you to finance the ideal engagement ring through three interest-free installments. Additionally, every purchase comes with a lifetime warranty and complimentary lifetime jewelry cleaning to ensure your engagement ring maintains its spectacular appearance.
Lark & Berry offers sizing options and services to assist in achieving the perfect fit for your perfect engagement ring as well as a ring sizing guide to help you find the perfect fit.
Tips for Choosing an Engagement Ring
As you are learning how to pick an engagement ring, here are a few helpful tips to keep in mind on this meaningful journey:
Lark & Berry offers sizing options and services to assist in achieving the perfect fit for your perfect engagement ring as well as a ring sizing guide to help you find the perfect fit.
Learn the 4 C's of Diamonds
Understand the 4 C's of diamonds thoroughly before making a decision, considering cut, color, clarity, and carat weight.
Consider Your Partner's Style
Consider your partner's style and preferences when selecting the diamond shape, metal, and setting for your perfect engagement ring.
Take Your Time
Take your time in the decision-making process and explore various options to ensure you choose the perfect engagement ring that symbolizes your love.
Consult a Professional
Seek professional guidance and ask questions when in doubt, as purchasing an engagement ring is a significant decision.
Make Your Ring a Symbol of Love
Ensure the engagement ring is a piece of jewelry that truly symbolizes your love, and that it fits perfectly for the engagement moment you've dreamed of.