What can I expect when coming in for a Lark & Berry piercing?
---
This page answers just that!
Hint: It takes only 3 steps.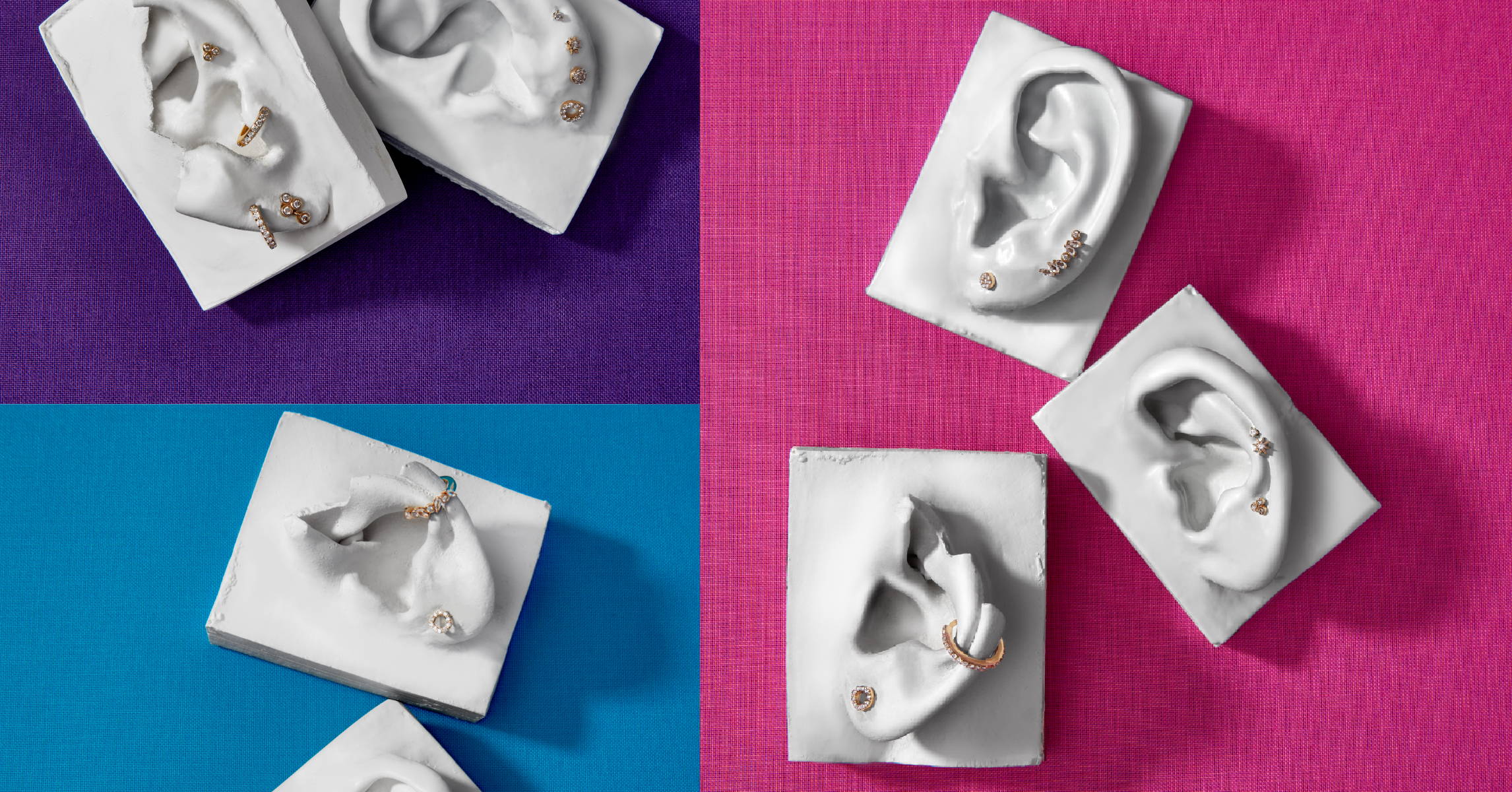 STEP ONE: Come To Our Shop.
Enter and be surrounded by beautiful jewellery. From necklaces with colourful sapphires, to cultured diamonds engagement rings with beautiful, big varied center stones and much more - this is a fine jewellery lover's heaven.
In the back of our boutique, you'll notice a special piercing area with an elevated chair. We love using this chair type instead of a bed, as all our customers have said it's way less scary. It keeps the experience casual, more akin to getting your hair or nails done versus something like undergoing an uncomfortable medical procedure.
The piercing space is tastefully sectioned off for piercing privacy. However, there is room for another person in case you want a loved one there with you for support!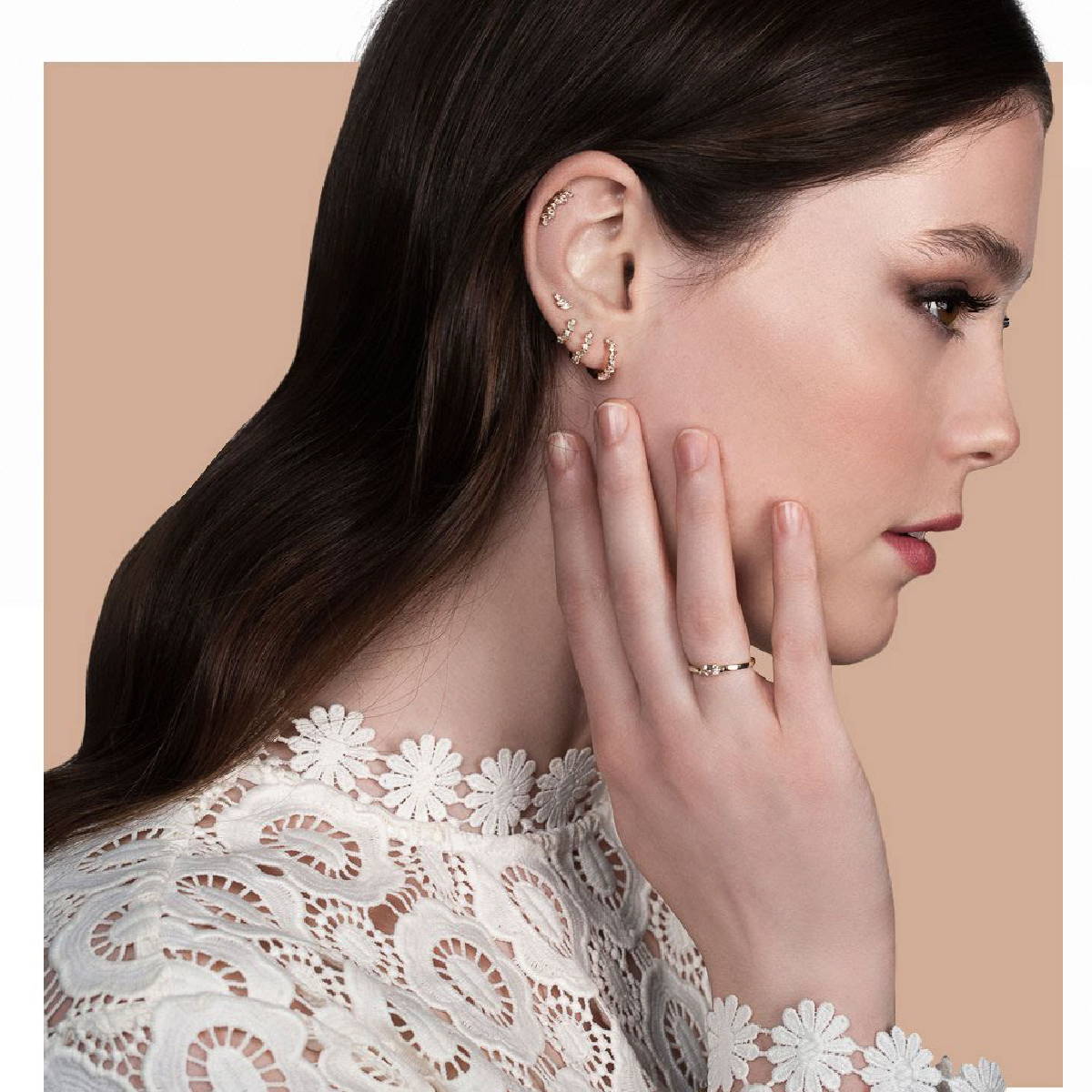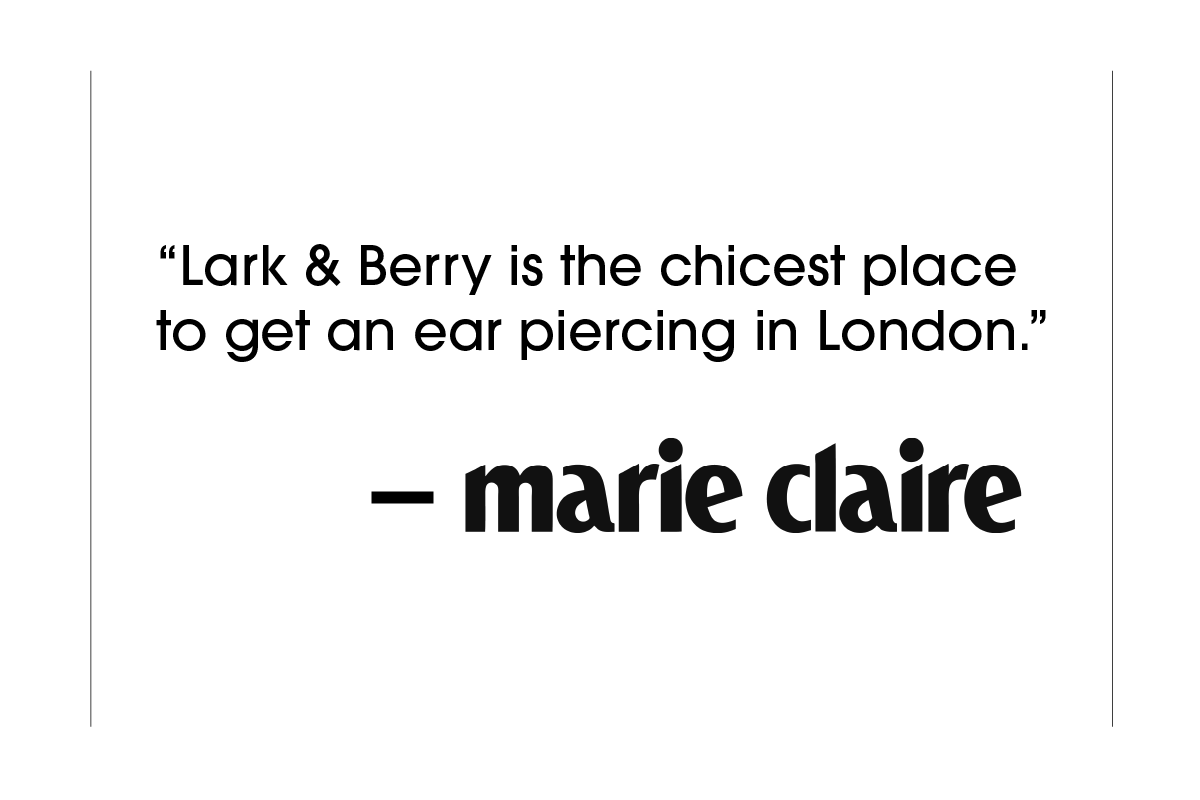 STEP TWO: Choose Your Fine Jewellery Pieces.
That's right, you get pierced with the very jewellery that you'll be wearing out of the store. Lark & Berry offers over 40 fine piercings and counting, featuring metal selections like yellow gold, rose, white and even offbeat choices like black rhodium. Then, there's the many selections of gemstones across our collections. All Lark & Berry jewellery features cultured stone(s). Since launch, every one of our precious gemstones has been cultured (grown, not mined), and that will never change. So, whether you choose a piece with diamonds, sapphires, emeralds, rubies, black spinel or others – you're getting jewellery that was made responsibly for our planet.

If you are unsure of what to get, our expert ear stylist can help you choose what will best complement your ear. Whether you want a piece on trend, or you're looking to get something outside the norm, our seasoned stylists will help you find exactly what works best for you.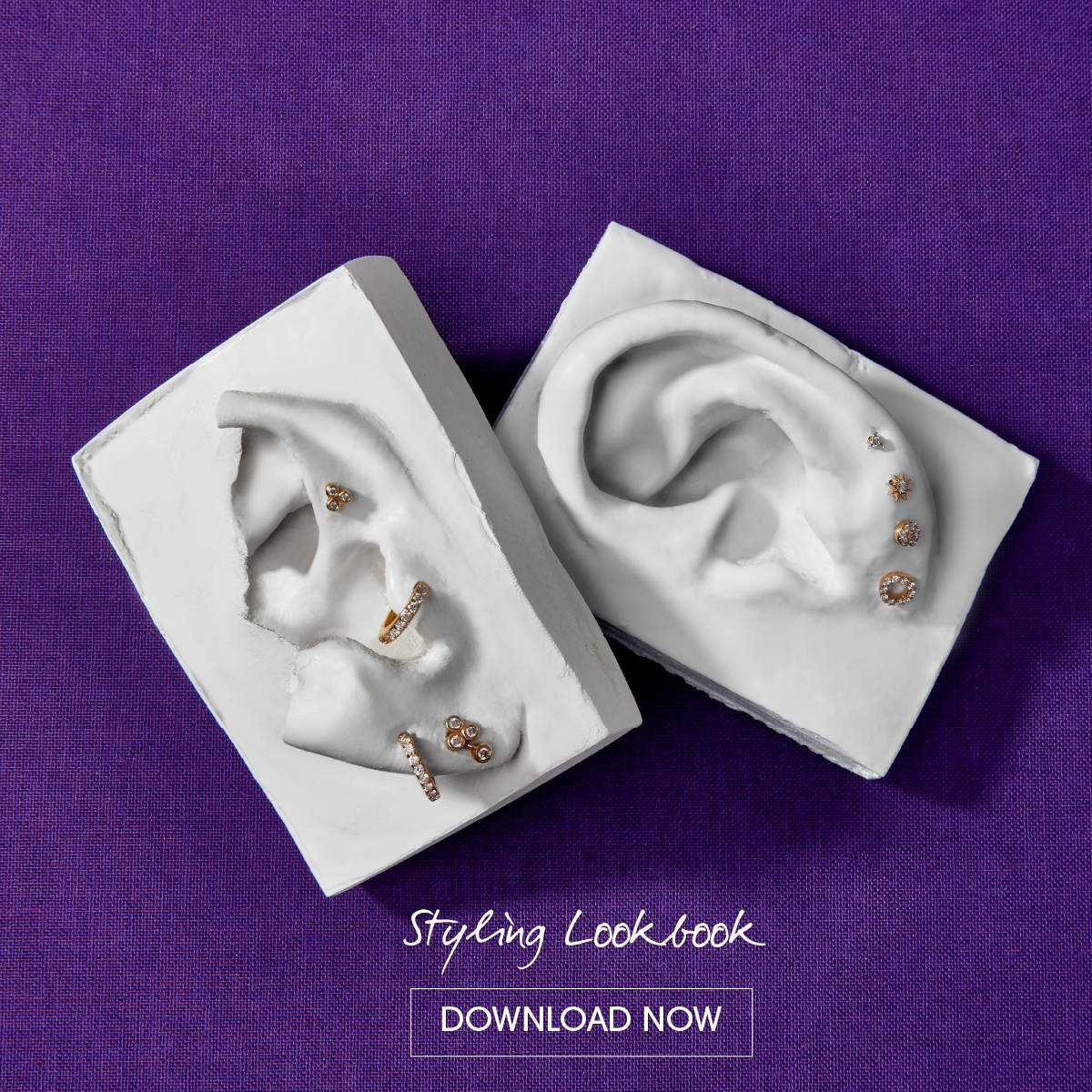 In a recent interview with Nylon Magazine, Svetlana, one of Lark & Berry's expert stylists, gave detailed advice on what piercings are in this Summer. This is just the kind of great info Lark & Berry customers can expect when booking an appointment:
"For the lobe, we're seeing more of a trend of getting multiple piercings - not just in a straight line, but to create more adventurous patterns, like a triangle made of small studs. For the helix (mid-ear), we're seeing people desire 2 or 3 piercings grouped in close proximity instead of the standard single piercing. And as far as the jewellery itself, we're selling a lot of small identical studs or a stack of the same style hoop. For the conch (top of ear), we're seeing people get a crescent or a bar labret instead of a small stud – it's very chic and a great look for the summer!"
STEP THREE: Get pierced! Always with a needle, never a gun.
A needle is the fastest, far less painful and most sanitary and safe way to get pierced. Some people get up to 4 piercings per ear! Please make sure you eat before getting pierced, and please do not drink alcohol before you come in, as it can thin the blood. Also, note that you have to be at least 16 years old to get a piercing with us. Every customer must have a valid ID.
We can't wait for you to have a such a unique luxury piercing experience as this. Once, we witnessed three generations of women from the same family come in to get pierced! A daughter, mom and grandmother all at once, all wanting piercings. We are proud to have had a hand in creating such a special, family memory. It was a real 'pinch me' moment, and we're excited to make a new memory with you!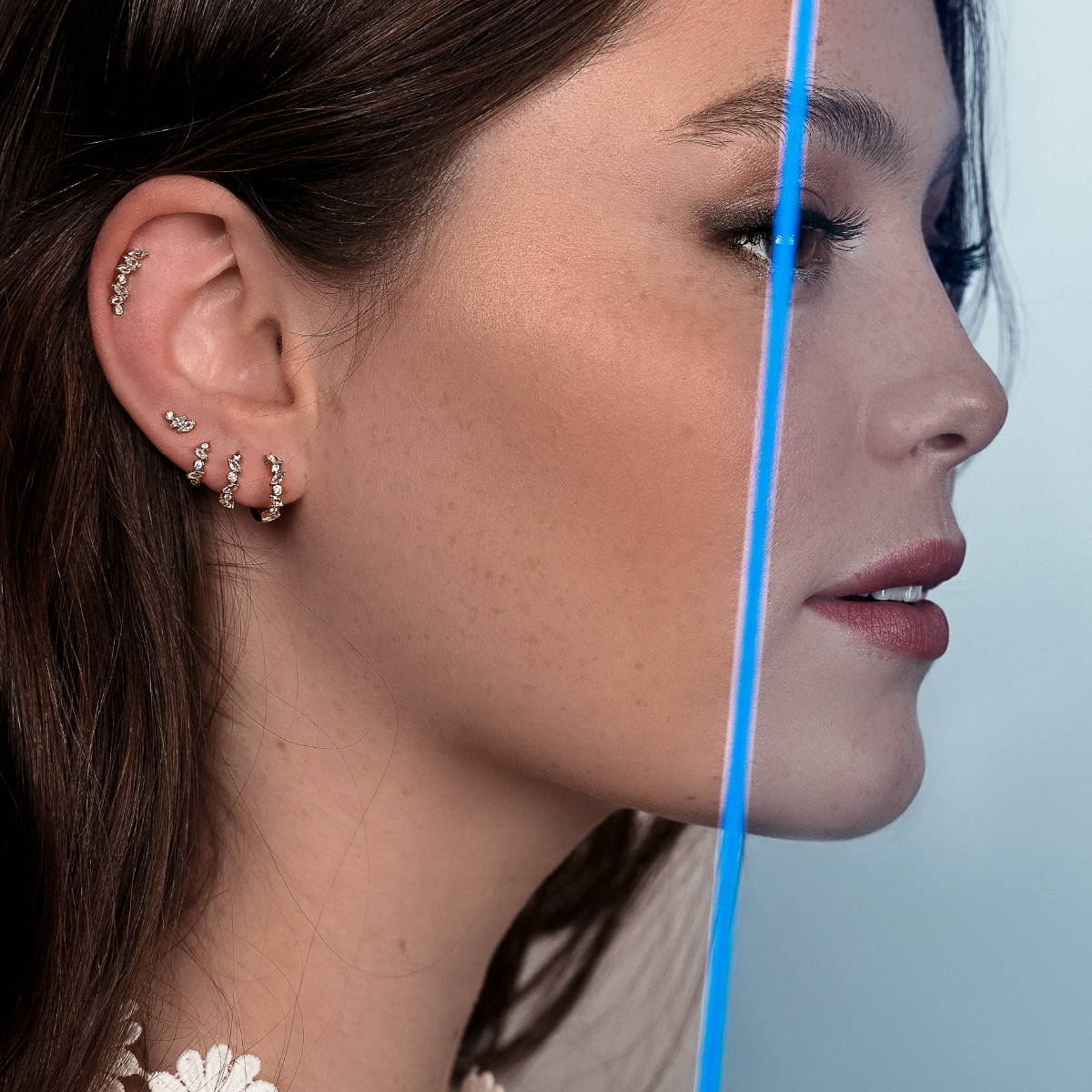 To ensure your experience is the best and to reward your bravery, you will be leaving Lark & Berry with totally free access to our aftercare program, which includes a check up, complementary shortening of the bar on your jewellery (when applicable) and deep cleaning of your fine piece regardless of diamonds/gems types. And there's more! You'll also receive a sustainable tote bag, chocolates, Lark & Berry fragrance samples, and of course, your brand new jewellery!
Some of Lark & Berry's customer reviews:
"I visited the Lark and Berry shop while in London in late May. I was interested in their piercing jewelry, which is unusual and beautifully made. I didn't expect such a large and varied collection. I got a lovely labret and have ordered two necklaces over the past two months. The shop is gorgeous and Svetlana is responsive and helpful. They also have a great rewards program!" 
—Dana, satisfied customer
"Very nice piercing experience. [Svet] was very nice, extremely efficient and the jewellery is lovely. My tragus piercing is one week old and I haven't had a single problem with it since it was done. I will go back for another piercing. The chocolates are also excellent!"
—Leigh, satisfied customer
"I just love your jewellery! I had been thinking about getting a 3rd lobe piercing for a little while. So, I was looking over your catalogue, and I just really loved the Veto Crescent labret design. And when I decided on that piece, I just thought getting it as a 3rd lobe piercing would really complete my ear in the way I had been wanting to."
—Laura Baggi, satisfied customer